Last week while cleaning out my Cupboard of Crap, where all the junk and clutter fits even when there's no space left, I suddenly remembered something I'd forgot about for years. There I stood with a pair of gloves and a mask, trying not to breathe in years of dormant dust, when a box marked THESE ARE MY CDs!!! fell out at my feet. It was my own fault. Without the enormous roll of foam underlay to jam everything in place, the junk surged forward and freed itself from my cupboard of crap. Thinking I was about to be crushed to death by a stack of old books and boxes, I backed away in the bathroom, my life flashing before my eyes in the form of crap newspaper headlines. A few seconds passed before I finally emerged, interested in the box on the floor. Years earlier, I'd intended to burn these CDs onto my craptop, giving them to the iTunes cloud for safe keeping. Inside the box were stacks of cracked cases and old bands I hadn't listened to in years. One of them was Nemesisters by Babes In Toyland. They were my first live gig. It was King Tuts Wah Wah Hut in Glasgow. Except it wasn't Babes In Toyland. It was Kat Bjelland with a new lineup. At that time, they were the closest thing I could see to this band. They were a tangible connection to disparate things like riot grrrl, Seattle, grunge, and all those American alt-rock bands I venerated as a teen and still do.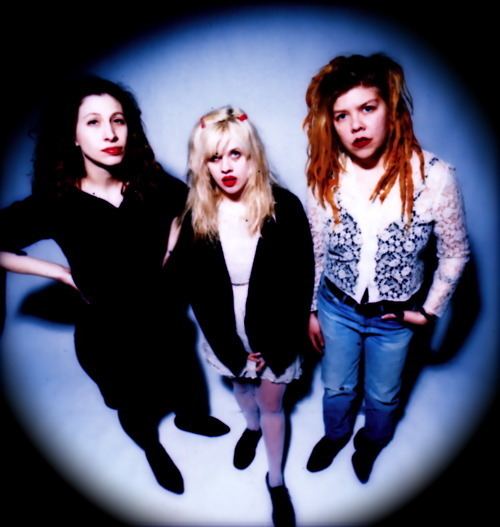 Nemesisters, the third and final album (so far) from Babes In Toyland is also their most musically diverse. Musicality was not their appeal for me. I connected to this band emotionally. Kat's shrieked, screamed, and snarled on my behalf. She looked like a cheerleader and sounded like The Exorcist. Me? I felt I looked like The Exorcist and sounded like a cheerleader. Really, Kat Bjelland was as big an icon for me as Courtney Love or Kathleen Hanna. But it was with Nemesisters that she overtook them in a race for my affections. My attention span being the thinnest part of me, this album really had staying power for a period in the late nineties, while I was at high school, it was the one.
Babes In Toyland were Maureen Herman, Kat Bjelland, and Lori Barbero. They always seemed to be fighting against something: the industry, the critics, each other. But I never knew any of this at the time. I simply accepted what they offered and loved it without knowing the story behind the album. In hindsight, the title is a good indication of their relationship, how they felt about one another. Nemesisters isn't considered their best album (Fontanelle wins that honour) and critics bashed the record on release. Maybe it's because this was the first Babes In Toyland album I bought (and the last to make it into my iTunes cloud) that I have such an affinity for it.
The album is sludgy and slow with heavy riffs and ferocious drums. It's a maniacal metal record with elements of hard-rock and punk. However, some songs are up-tempo and catchy enough to hurl into a DJ set as a surprise entry. Sweet 69 is possibly the most pop Babes In Toyland ever got, if that's possible. The video (barely seen outside of YouTube) is brilliant, showing the band with a sense of humour.
A few surprise covers on this album stood out when I listened to it. We Are Family by Sister Sledge is a good example of taking a song and giving it a proper makeover without losing what made the original song so brilliant in the first place. Honestly, I hate cover versions that sound completely unlike the source song. Who wants a boring slow wrist-slashing version of Lovefool anyway? Another cover on Nemesisters is All By Myself. I never liked the Eric Carmen song but I love the Babes In Toyland take on it. Other tracks on the album include songs with titles such as Killer On The Road, Drivin', Oh Yeah and Hello. With a track list like that, how could I not love this record?
That night at King Tuts, I couldn't help but be completely overwhelmed by the noise and the heat. It wasn't my thing, yet I couldn't…wouldn't…leave because Kat was there and I really wanted to see if she existed. She did. Dressed in black, almost featureless, anti-fashion, she was everything I wanted her to be and more. Isn't it awful when your icons disappoint and your favourite albums turn out to be not as good as you remember? I'm grateful that wasn't the case with Babes in Toyland. Maybe, with luck, they'll record a fourth album and make Nemesisters more than a full-stop on their discography.
Meanwhile, I still have that box to empty and a cupboard of crap to tidy…