Ever since Teresa Giudice shook a table threateningly at Danielle Staub during lunch, the Real Housewives franchise has unleashed some of the most remarkably insane television – and I've loved every second of it. But some scenes have impacted harder, burrowed deeper, than others. In celebration of one of my favourite TV product, here are some of my favourite most insane moments from Bravo's The Real Housewives in no particular order:
Carlton Hexes Joyce (The Real Housewives of Beverly Hills)
Carlton only appeared on one season before disappearing, but even her short run of episodes yielded a classic crazy TV moment. A practicing Wiccan, Carlton unleashed a mere crumb of her immense mystic power against rival Housewife Joyce Giraud. Oh dear. Joyce didn't think much of it until her husband Michael ended up seriously ill. Why did the producers axe Carlton? Weren't they terrified she'd bring forth all the power of the shade and axe them from life? I for one would love to see Carlton return in a future episode, but only if she also brought her Book of Shadows with her…
Shannon's Funeral (Real Housewives Of Orange County)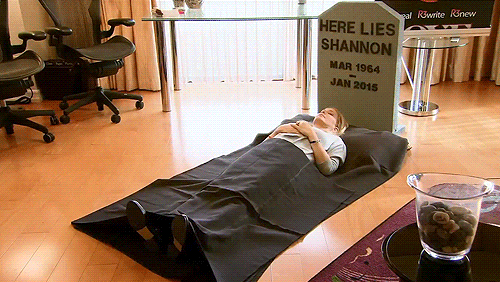 Shannon Beador rejuvenated Orange County with a no holds barred onscreen portrayal of her unravelling marriage. She really loved her husband, but he didn't love her. Not anymore. And this led to a series of increasingly bizarre tactics and therapies to save their marriage. The strangest of all was the time Shannon made her soon-to-be ex-husband watch her motionless on the floor by a mock tombstone with her name on it! It's like what Michael did to Judith Myers in Halloween, but shittier.
Aviva Throws Her Leg (The Real Housewives Of New York)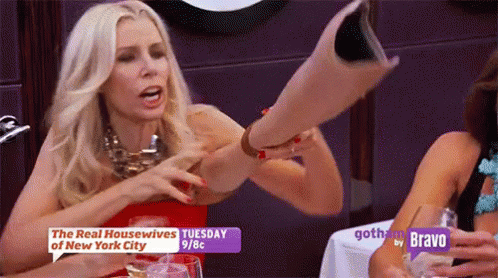 I can't actually write about this, because words can't do it justice. Basically, Aviva starts this confrontation off by puffing on her inhaler. Then ends it (and the viewers) by taking off her prosthetic leg and hurling it across the room. An iconic TV moment is born!
Allison DuBois's Psychic Attack (Real Housewives Of Beverly Hills)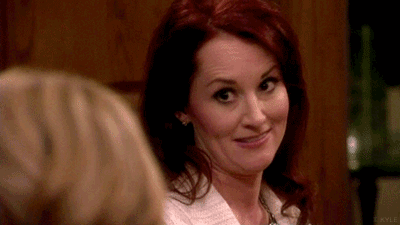 Have you ever watched Medium? It's a lovely TV show about a kindly mother with the power to see the future. Based on 'real events', Allison helps the police solve crimes and cooks dinner for her loving all-American family. The reason for the show's success is that Patricia Arquette played the role with bundles of natural likeability. The real Allison DuBois, however, is the opposite of Patricia. Instead of using her power for good, she took an opportunity to psychically attack the other Beverly Hills Housewives during a lunch at Camille Grammer's house. Allison's psychic gift gave her the ability to read Kyle for filth.
Kelly Runs Through New York Traffic (The Real Housewives Of New York)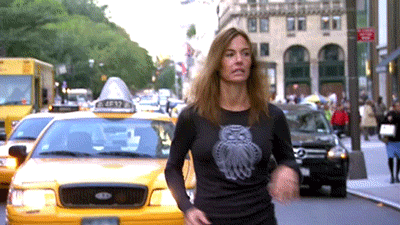 Yes, I could have placed 'Scary Island' in my list of insane moments ever seen on Real Houswives. But we all know about that. This moment was bizarre enough that I still remember it years after it happened. Kelly, the free boho Housewife, was sold to us as something a bit different. Oh Kelly was different alright. She took a carefree jog through peak morning New York traffic in an owl tanktop. Again. A carefree jog through New York traffic in an owl tanktop.
Tammy Gets Knocked Out By Her Nephew (Real Housewives Of Atlanta)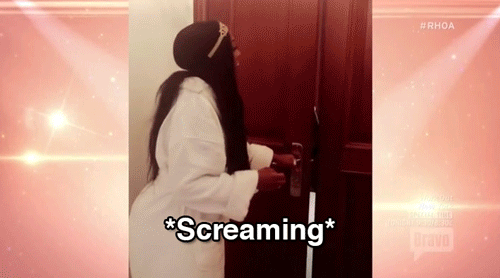 What Season 8 lacked in excitement, it more than compensated with tactless Tammy McCall Browning. From trying to get her son a record deal whilst on a boat with Kandi to being accused of having a past with Sheree's husband, she served up some memorable scenes in a lacklustre series. The most memorable (for all the wrong reasons) was that time Tammy invited her nephew over to the hotel the other Housewives were staying at – only to be knocked out by him! Poor Tammy, they should never have cropped her out of the cast photograph!
And there you have it, my favourite insane crazy over the top moments ever featured on Bravo's hit franchise. I may post more in the near future after I watch Atlanta's Reunion.
Okay. I Tweet. I Instagram. I Face a Book.
Follow me on Twitter. Follow me on Instagram. Follow me on Facebook. Don't follo w me home.